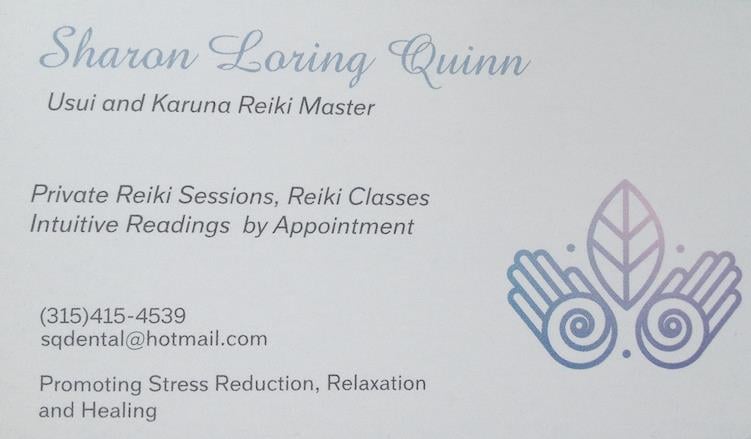 Sharon Quinn ~ Reiki and Readings
It is a Joy to be a part of the Healing Inspirations Family! Check out all we have to offer at Healing-Inspirations.com.

I am grateful to have the opportunity to share my love of Reiki and Meditation with you. Whether you are a new or returning client, I am honored to be a part of your personal journey to relaxation, balance and healing.
My services aid in increasing your well being, joy and peace through stress reduction and relaxation. This is a key to your overall health , now more than ever, with the intense stresses in our lives and our world.

Whether you have a feeling of overload and anxiety, an overbooked schedule, relationship disharmony, or aches and pains, Reiki can play a part in promoting wholeness, balance and healing. Compassionately creating time and space for yourself is what it's all about.

A Reiki Session gives you an chance to relax and release worries and stress so the true, beautiful YOU can shine.

An Intuitive Reading is helpful to clarify goals and point you in the right direction through messages from your Angels, Spirit Guides and Loved Ones on the other side.

Meditation Instruction can help you take the first step toward a lifetime practice. Through centering and releasing tension and worry you can create balance and peace in your life.

Taking Reiki Classes can move you along the path of your personal healing journey and may open a whole new avenue on that path that you never expected.

As a Reverend of the Universal Life Church, I'm available to officiate Wedding Ceremonies! Taking part in such a momentous and Heart-opening event is an amazing privilege and joy! Please contact me if you are in need of an officiant.

I team up with Debbie DeRusha to provide a variety of enjoyable and enriching learning experiences including our Usui and Karuna Reiki Classes, we have put most of our group classes on hold at the moment, but look forward to bringing them back as the Covid situation diminishes. Chakra and Mantra Workshops are in the works for the coming year.

We offer a Public Message Circle once a month delivering uplifting and loving messages from Spirit to all attendees. We are also available for Private Psychic Message Circles for groups of 5-8 people at Healing Inspirations.

Debbie and I perform House Blessings to clear old or stagnant energy and infuse your home with a fresh, positive atmosphere! This is a wonderful Housewarming Gift for new homeowners or just to clear away the energetic cobwebs.

Both Public and Private Message Circles and House Blessing can be booked through Debbie DeRusha at Dreaming-Gypsy.com


Upcoming Classes:

Usui Reiki I Class Saturday, September 18, 2021 @ 2:00 $150
Usui Reiki II Class Saturday, October 16. 2021 @ 2:00 $150
Usui Reiki III/Master Class Saturday, November 13, 2021 @ 2:00 $300


Karuna Reiki Classes : Take it to the next level! Students must be attuned to Usui Reiki III to attend Karuna Classes. Contact me or Debbie DeRusha (dreaming-gypsy.com) to schedule.

We are hoping to resume Reiki Shares in the Fall. This will depend on the Covid situation. To Be Continued...

Sharon Quinn ~ Reiki and Readings
Sharon

Usui and Karuna Reiki Master and Intuitive Medium

Healing Inspirations has been my home base for many years. My reiki education and instruction in meditation started in the very place in which I am so pleased to offer services.
Sharon Quinn ~ Reiki and Readings
Sharon Quinn ~ Reiki and Readings
215 First Street, Liverpool, NY 13088
3154154539
Monday

Tuesday

Friday

Saturday

Sunday

11:00am - 7:00pm

3:45pm - 6:00pm

11:00am - 7:00pm

11:00am - 4:00pm

11:00am - 4:00pm